Mentorship
The Mentorship Program facilitates mentoring relationships between community volunteers and people who are reentering the community after incarceration. The program coordinates pro-social, healthy activities for program participants and their friends and families, with the aim of fostering productive habits and providing new experiences.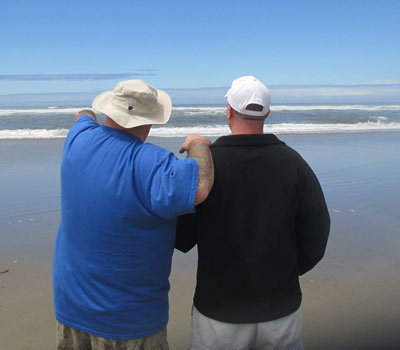 Each pairing is granted an allowance for pro-social activities each month. These funds can be used to buy fishing licenses, woodworking supplies, coffee, movie tickets, or a nice dinner! The Mentorship Program also plans monthly trips and offers free tickets to a variety of events. 
The Mentorship Program hosts Mentor Support groups on the last Tuesday of each month where volunteers come together to share their experiences with one another. A monthly Speaker Potluck is also organized on the last Wednesday of every month. Each month, during this event, community members share resources and information impacting our local community. Topics may include trauma and criminality, parole and probation, drug and alcohol treatment, or child welfare. Mentors also receive one-on-one staff support to help the match succeed.
Become a mentor today.
Mentors must be at least 24 years old. Those with conviction histories are encouraged to apply, but must have at least two years of sobriety without police contact. We seek mentors who are consistent, persistent and dependable.
If you'd like to learn about whether being a mentor is right for you, please reach out to Mentorship Director Amy Myers at 541-505-5665, or email [email protected]
Thank you to our wonderful community partners!
Your partnership allows for unforgettable memories, relationships and experiences for both our participants and mentors.